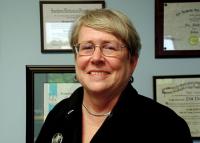 Dot Dobbins is a partner in the firm of Dobbins & Venick, established in October 1993. Prior to that she was in private practice with the firm of Woods and Venick from October 1990 until September 1993. She has a family law practice with an emphasis on domestic relations cases, as well as legislative advocacy. From 1987 to1990 she was General Counsel for the Tennessee Department of Human Services, before which she spent 12 years with the Department of Human Services, as an attorney with Legal Services of Middle Tennessee, Inc. handling family law cases.
Dot is a 1974 graduate of Vanderbilt Law School. She is a member of the Nashville Bar Association, and was a member of its Board of Directors from 1993-1996 and the Domestic Relations Committee from 1974-1990 (Chair: 1984, 1986; Vice Chair, 1990). She is a member of the Tennessee Bar Association and its Family Law Section, as well as a member of Lawyers Association for Women (President, 1992-1993), and a member of the Tennessee Lawyers Association for Women. Dot is a Fellow in The Nashville Bar Foundation.
Dot has been a speaker on topics related to family law at A.B.A. Conferences, National Women and the Law Conferences, the Tennessee Judicial Conference, Tennessee District Attorneys Conference, Tennessee Juvenile Judges Conference, Tennessee and Nashville Bar Associations seminars, as well as programs sponsored by L.A.W., the Y.W.C.A. Domestic Violence program, and Family and Children's Services.
She is currently serving on the Public Policy Committee of Senior Citizens, Inc., and was appointed by the Mayor of Nashville in June 2000 as a commissioner for Metro Social Services.
As a member of the Tennessee community, Dot volunteers with the Y.W.C.A. Shelter and Domestic Violence program, Nashville Women's Political Caucus, and has served as President of the Nashville Y.W.C.A. Board. She has served on the Board of Senior Citizens, Inc. (now Fifties Forward) and the Board of the Metro Social Services Commission. Dot is a member and trustee of the Nashville Friends Meeting (Quaker) where she serves on the Ministry and Counsel Committee and the Alternatives to Violence Program (AVP) Committee. She is also trained as an AVP facilitator.
Dot grew up in Memphis, TN and received a B.A. degree in 1969 from Southern Methodist University in Dallas.